Just another WordPress site
---

What We Were Trying to Do and Why: Freedom Schools and Liberation Schools in the 1960s -Discussion with Charlie Cobb, Zoharah Simmons and Ash-Lee Henderson
October 25, 2021 @ 7:00 pm

-

8:30 pm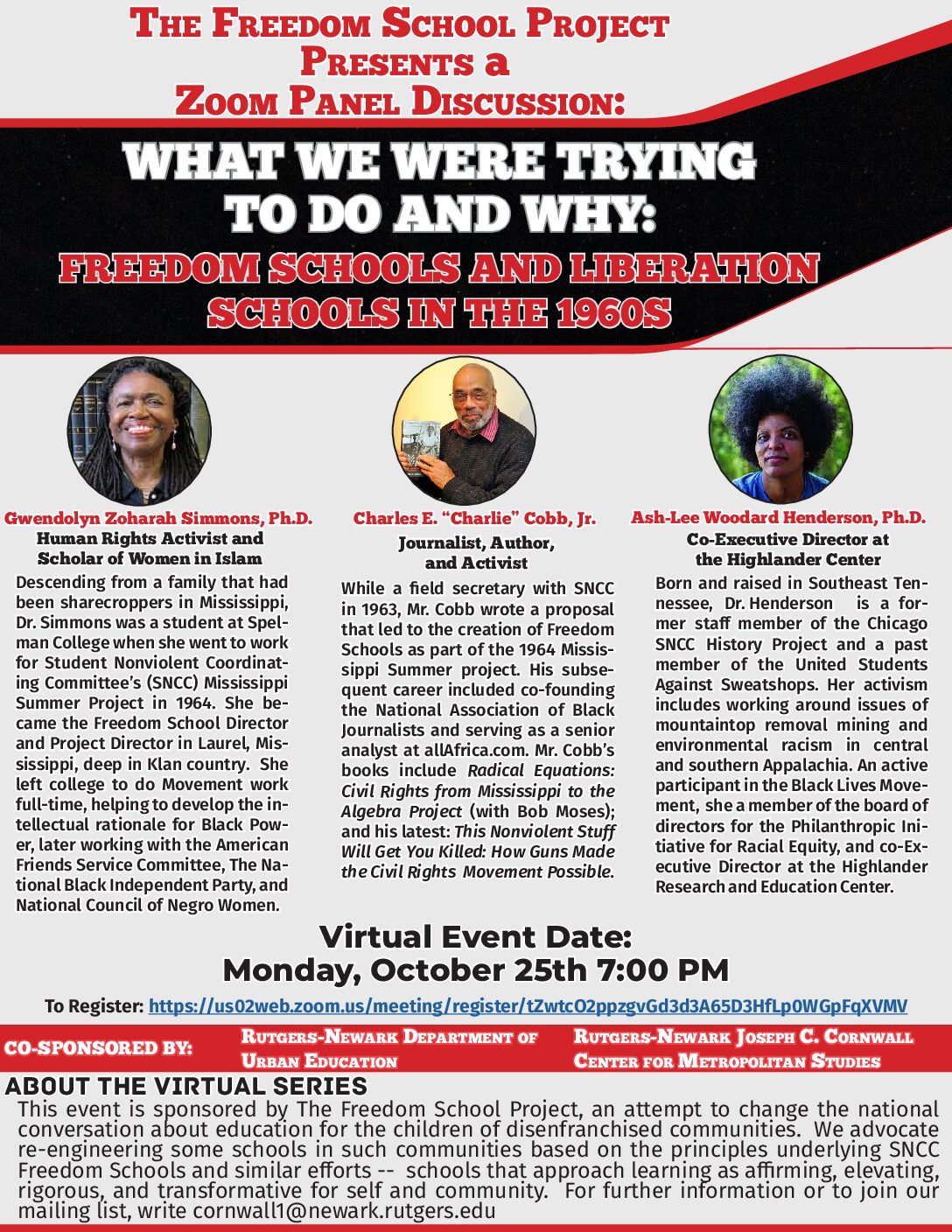 Flyer: What We were Trying to Do
Register for the panel at: https://us02web.zoom.us/meeting/register/tZwtcO2ppzgvGd3d3A65D3HfLp0WGpFqXVMV
Read Something:
Charlie Cobb, "Organizing Freedom Schools," in C. Payne and Carol Sills Strickland. Teach Freedom: Education for Liberation in the African-American Tradition. New York: Teachers College Press, 2008.
https://cornwall.rutgers.edu/wp-content/uploads/cobb.-freedom-schools.pdf
Ash-Lee Woodard Henderson, "On Being Black, Southern And Rural In The Time Of COVID-19, " Essence Magazine, December , 2020.
https://www.essence.com/feature/black-southern-rural-covid-19-coronavirus/
Gwendolyn Zoharah Simmons,  "Veterans of Hope Interview," https://www.veteransofhope.org/veterans/gwendolyn-zoharah-simmons/
(Go to Interview Excerpts).
Project Advisors
Kaleena Berryman, former Director, Abbott Leadership Institute (parent engagement in Newark, NJ).
Jitu Brown, National Director of the Journey for Justice Alliance (J4J) alliance of communty organizations. 
Charles E. "Charlie" Cobb Jr. journalist, professor, author and activist.
Dr. Darleen Gearhart, Director of Mathematics, Newark Public Schools.
Jeanne Middleton Hairston , former Director of Children's Defense Fund Freedom Schools; former chair of the Department of Education, Millsaps College; member of the Jackson, Mississippi Board of Education. 
 Linda Darling-Hammond, Charles Ducommun Professor of Education Emeritus at Stanford University, past president of the American Educational Research Association.
 Reverend Dr. William  Howard, former pastor, Bethany Baptist Church, Newark; former member of the Children's Defense Fund Board of Directors.  
Robert "Bob" Moses. legendary organizer in the civil rights movement;  MacArthur Fellow, founder of the Algebra Project (deceased).
Professor Paul Ortiz, University of Florida, author of An African American and Latinx History of the United States.
Professor Charles Payne, Director of the Joseph C. Cornwall Center for Metropolitan Studies at Rutgers University. 
Professor Theresa Perry, author of  Young Gifted and Black: Promoting High Achievement Among African American Students.
 Dr. Mary Ann Reilly, Assistant Superintendent for Teaching and Learning for Newark Public Schools.
Sharon Smith, parent organizer; President of Parents Unified for Local School Leadership, Newark.
Professor Angela Valenzuela– Director of the Texas Center for Education Policy; Director of the National Latino Education Research and Policy Project. 
---